Uptime Record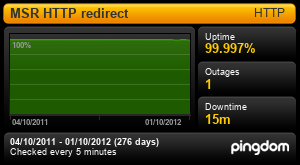 Organizations outsource their most important management needs to MotorsportReg.com so reliability is priority #1. Websites measure reliability as Uptime – the percentage of time a service is responding and operational.
While we work very hard to thwart the gremlins, on rare occasion we experience a hiccup where our service is not available. Our goal is 99.99% uptime which translates to 52 minutes of downtime per year. You can always see our real-time status at status.motorsportreg.com.
Since July 1, 2008, our combined uptime is 99.988%.
All outages measured by independent third-party monitoring services.
Translate "Nines" To Time
| Availability % | Downtime per year | Downtime per month | Downtime per week |
| --- | --- | --- | --- |
| 90% ("one nine") | 36.5 days | 72 hours | 16.8 hours |
| 95% | 18.25 days | 36 hours | 8.4 hours |
| 97% | 10.96 days | 21.6 hours | 5.04 hours |
| 98% | 7.30 days | 14.4 hours | 3.36 hours |
| 99% ("two nines") | 3.65 days | 7.20 hours | 1.68 hours |
| 99.5% | 1.83 days | 3.60 hours | 50.4 minutes |
| 99.8% | 17.52 hours | 86.23 minutes | 20.16 minutes |
| 99.9% ("three nines") | 8.76 hours | 43.2 minutes | 10.1 minutes |
| 99.95% | 4.38 hours | 21.56 minutes | 5.04 minutes |
| 99.99% ("four nines") | 52.56 minutes | 4.32 minutes | 1.01 minutes |
| 99.999% ("five nines") | 5.26 minutes | 25.9 seconds | 6.05 seconds |
| 99.9999% ("six nines") | 31.5 seconds | 2.59 seconds | 0.605 seconds |
table courtesy of Wikipedia's High Availability entry